General Joseph Aoun
SMM IHRC > Middle East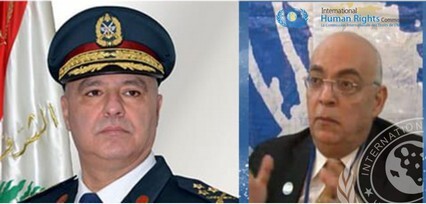 The International Human Rights Commission calls on the commander of the Lebanese army to investigate allegations of violations ...
The International Commission for Human Rights indicated that it sent a book to the Lebanese army commander, General Joseph Aoun, on the arrival of a video tape called by Alaa Antar claiming that he was severely beaten in the National Security Branch and extracted from him confessions under torture. His chest, head and teeth, and he was threatened that if he spoke he would be re-arrested, and he concluded that he had asked to kill him and kissed the investigators' hands in order to stop the beating and torture of him.
The IHRC requested that an investigation be opened into the case and summon the military elements who were accused by the activist Alaa Antar, in addition to summoning the activist himself to take his statements, and accordingly the thing would be required. The office of the Ambassador at Large to the UNOG Affairs Dr. Haissam Bou-Said, considered that the Lebanese army's performance in managing successive crises since the beginning of the popular movement, through the crisis of the new corona, especially after some elements in the movement deliberately threw Molotov cocktails and firecrackers and only violations were recorded within the usual frameworks as a result Pressures from known destinations.

The office of the Ambassador at Large
UNOG Affairs
Dr. Haissam Bou-Said