Rajl-Up-sultan-Rana Bushrat Ali Khan
Press note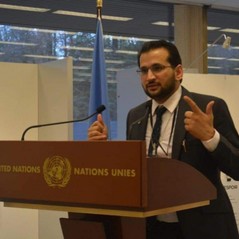 PRESS NOTE FROM THE OFFICE OF SECRETARY GENERAL INTERNATIONAL HUMAN RIGHTS COMMISSION: Rajl-Up-sultan-Rana Bushrat Ali Khan
as official Ambassador at Large IHRC in United Kingdom.
Under the visionary leadership of Secretary General Sir.Rafal Marcin Wasik, International Human Rights Commission (IHRC) is working to strengthen & support all Nations capacity to engage in sustainable development through educational access, relief programs, ecological & bioethical reflections & actions, while taking in to consideration the traditional, social & cultural values of each Nation. Promoting Human Rights Peace, Gender Equality, Health, Economic development, awareness regarding the rights of women, children & youth in developing nations & where ever needed.
Currently the TEAM IHRC is working day & night to strengthen the operations of International Human Rights Commission & to expand its operations across the Globe.
Sir Rafał Marcin Wasik, In exercise of the powers conferred upon me by the constitution of the International Human Rights Commission and issued in accordinate with the authorization by the Supervisory Board is pleased to appoint and designate
Rajpl-Up-sultan-Rana Bushrat Ali Khan
as official Ambassador at Large IHRC in United Kingdom.
Rajl-Up-sultan-Rana Bushrat Ali Khan
40, Pakistani origin famous British social figure, humanitarian motivational speaker and peace activist. coordinator for United Nation human right ambassador for United Nation Directors and member for many international organisation, President of International Human Rights Movement United Kingdom and Europe since 2007, during student life he was as advisor to Chief Minister of Punjab for youth & education In Pakistan.
After moving to United Kingdom in 2002 Basharat Ali become member of Crown Court Jury Service Bristol and take key roal part to organized a major protest in UK ( million much ) against Iraq's war in 2003. He participated in the Bristol City Council election 2005 & 2007 . Also he was vice Chairperson for Easton Residents Network 2004 and was Labour Youth officer south west 2005 & Youth ambassador 2007. He worked with Universal Peace Federation as peace Ambassador from 2005 -2011 & represent UK in United Nations Human Right from 2013-15.
Team IHRC warmly welcome H.E Rana Basharat Ali & wish him good luck.

Issued:
Secretary General IHRC
Sir Rafał Marcin Wasik