Secretary General IHRC
Press note > Secretary General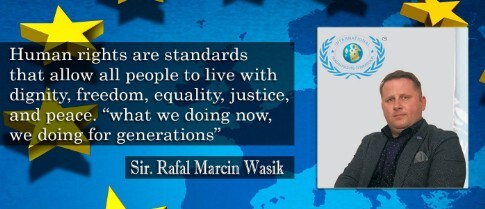 "What we doing now, we doing for the Generations" – Sir.Rafal Marcin Wasik
Many people view human rights as a set of moral principles that apply to everyone. Human rights are standards that allow all people to live with dignity, freedom, equality, justice, and peace. Every person has these rights simply because they are human beings.
They are guaranteed to everyone without distinction of any kind, such as race, color, sex, language, religion, political or
other opinion, national or social origin, property, birth, or other
status. Human rights are essential to the full development of individuals and communities. Countries often incorporate human rights in their own national, state, and local laws.
Sir.Rafal Marcin Wasik, a Person who has dedicated his life serving Humanity. A man with the courage & vision to wake up every morning with the Passion to serve Humanity with improvements in people's life & Peace around the world. An International Expert in the field of Human Rights & Organization Management & a Philanthropist.
Over 2 billion people live in fragile conflict zones, driving 80% of the world's humanitarian needs. These complex crises threaten efforts to end extreme poverty, and often increase tensions between ethnic, tribal and political groups. Resulting instability and threats of violence drive people from their homes and prevent access to food, water, health services and shelter.
Sir.Rafal, strongly believes that "what we doing now, we doing for generations" focusing on resolving international conflicts & humanitarian crises are his priorities. He has a vast experience working as the recognized international observer in conflicts zone in Ukraine, Organiser of various international humanitarian & diplomatic meetings & conferences around the world, International Expert from International Agency of the Public Security Geneva.
Sir.Rafal Marcin Wasik is currently serving as the General Secretary of International Human Rights Commission with the Vision & dedication for protecting the Human Rights of the People around the world with promoting the culture of Peace among the Nations.
Under the visionary leadership of General Secretary Sir.Rafal Marcin, IHRC is working to strengthen & support all Nations capacity to engage in sustainable development through educational access, relief programs, ecological & bioethical reflections & actions, while taking in to consideration the traditional, social & cultural values of each Nation. Promoting Human Rights Peace, Gender Equality, Health, Economic development, awareness regarding the rights of women, children & youth in developing nations & where ever needed.
Sir.Rafal Marcin Wasik, is also an originator of conflict resolution in Ukraine. Central Office of the International Human Rights Commission (IHRC) has been officially registered in Ukraine in 2014 in order to create an international network of Human Rights Protection. Since the creation central office of IHRC conducted monitoring of early presidential elections in Ukraine on 25th May 2014, serving as an international observer. Central office IHRC has prepared proposals which has found practical application in the Peace Plan of the President of the Ukraine & Minsk Arrangements of 5th September 2014. In matters of supporting the National strategies against IDP's & development & implementation of legislations on IDP's in the fields of social & economic policy.

Issued:
Mr. Muhsin Durrani
Ambassador at Large IHRC
International Human Rights Commission