Dr. Abubakar Bukola Saraki
Press note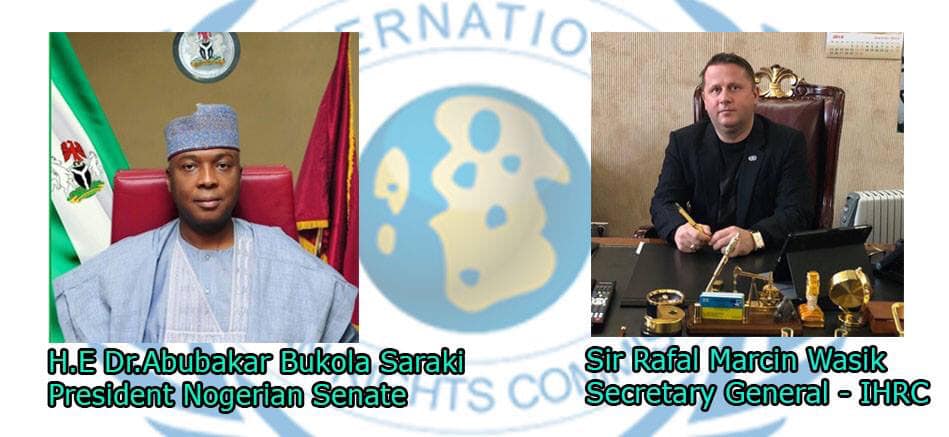 PRESS NOTE FROM THE OFFICE OF THE GENERAL SECRETARY International Human Rights Commission:
Under the visionary leadership of General Secretary Sir.Rafal Marcin, IHRC is working to strengthen & support all Nations capacity to engage in sustainable development through educational access, relief programs, ecological & bioethical reflections & actions, while taking in to consideration the traditional
, social & cultural values of each Nation. Promoting Human Rights Peace, Gender Equality, Health, Economic development, awareness regarding the rights of women, children & youth in developing nations & where ever needed.
With our ongoing expansions in operations worldwide, we are pleased to inform that The President of Senate H.E Senator Dr. Abubakar Bukola Saraki has join the International Human Rights commission as our Ambassador at Large.
Olubukola Abubakar Saraki is a Nigerian politician who has been the President of Nigeria's Senate since 2015. After his re-election in the 2015 general elections, Saraki was on 9 June 2015 elected unopposed as President of the Senate by an across the party alliance comprising PDP and APC Senators.
Previously he was the Governor of Kwara State under the platform of the PDP (People's Democratic Party) from 2003 to 2011. Over the past 3 years, the Nigerian Senate under his leadership has surpassed all Senates in Nigeria's history, passing 201 bills and clearing 138 public petitions.
We must also thank IHRC Ambassador Friday SANI the diplomatic head to Nigeria /African Countries for his hard work coordination with the Nigerian Senate for finalizing the appointment of Senate President as Ambassador at Large.
International Human Rights Commission