Chairman Federation IHRC
Press note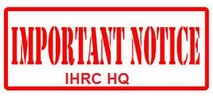 Due to numerous complaints about
Mr. Javed Ahmed Malik's
unfulfilled promises of assignment of ambassadorial functionsin the IHRC structures and the collection of related fees by him, we regret to inform you that Mr. Malik has beenpenalized from the structures of our organization.
Mr Javed A. Malik
was nominated by the IHRC authorities as Chairman of IHRC Federation to unite all local IHRC structures and add new quality to them. In February 2018 he received all necessary documents from HQ for officialregistration in the UK. Their standard validity is 6 months, which we have repeatedly reminded Mr. Javed A. Malik. However, hislack of action towards registering the Federation made the Federation impossible.
Mr. Javed Malik
does not perform any function in any way in the IHRC, or in any organization or company associated with it, and is not authorized to issue or mediate in issuing anydocuments or appoint anyone for any function in the IHRC. All such activities are undertaken by him in his own name, for his own benefit and risk, and constitute an attempt to cheatand extort, and thus are criminal activities.
All those who got from Mr Javedo Malik the proposal to buyIHRC documents, paid for them and did not receive, paid and received some IHRC documents, PLEASE CONTACT the office of IHRC to the following address:
office@ihrchq.org

Issued:
Ambassador at Large IHRC
Jaroslaw Tatarowski
Head of Supervisory Board