---
The Special Monitoring Mission International Human Rights Commission (SMM IHRC) was established by the
Secretary General Prof. h.c. Rafal Marcin WASIK
decision in 2018. The general principles of operation are based on their own experiences from cooperation with volunteering during the conflict in eastern Ukraine after 2012.

The construction of the structures, under the leadership of
Master Volunteers Coordinator (MVC SMM IHRC)
IHRC
Ambassador at Large J. TATAROWSKI
, began in mid-2018. By the end of this year, the number of new registered active Volunteers has exceeded 500. Today, our Great SMM IHRC Family includes thousands of people from almost all continents. Organized in strong teams, under the leadership of zonal, regional, national and international leaders, each day they make a priceless contribution to the fight for freedom, prosperity and human rights, human life and security at the local and international level.
IHRC in cooperation with other organizations, has carried out humanitarian aid for over for hundreds of thousand people around the world. Through thousands of our registered and active associated in the IHRC Special Monitoring Mission Volunteers, we are active in all corners of the world, running humanitarian aid programs, raising awareness, protecting human rights, monitor local social and political situations.
SMM IHRC Volunteer members, in the CoVID-19 virus pandemic time, risked their lives and health, under the leadership of local SMM IHRC agents, carried out hundreds of actions to provide food aid to the victims, the poor and the needy and
conduct with
them
educational activities about the
methods of protection against infection.
An important aspect of universal mobilization to fight the COVID pandemic, as well as recognition of the efforts made, are awarded by the IHRC "Certificate of Appreciation", already highly respected by awarded persons, organizations and institutions around the world. These certificates are numbered and a full awarded list can be found on the official IHRC website.
[image:image-2]
Due to the global COVID -19 pandemic, SMM IHRC is currently being expanded with its medical part. Each structure, each group will be replenished as quickly as possible with people with practical and solid medical knowledge. This will allow SMM IHRC to operate even more effectively on a much wider plane
We invite you to join our Great SMM IHRC Family. We guarantee the best company, the highest goals, great satisfaction and the possibility of self-realization, active influence on your own fate and on the fate of your community, and thanks to them the increase in joy, understanding of the world and recognition in the eyes of people close to you and important to you.
Each of you is indispensable to fight for the good of the world and human rights.
"Because what we do today, we do for Generations"

Our Volunteers
Blood of the Gift of Life

MAKKAL THOZHAN Charitable

First Vice Secretary General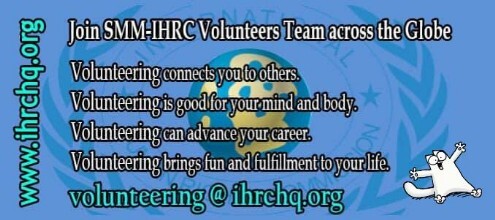 We help
Blood of the Gift of Life

MAKKAL THOZHAN Charitable

First Vice Secretary General