Special Volunteer Program
What we do > SMM IHRC > Actions > Europe > Poland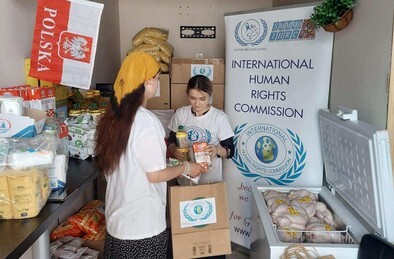 IHRC together with ZO NSZZ FSG at NwOSG in a special volunteer program on the occasion of the Muslim holiday of Kurban Bajram
What do people need to be happy?
The feeling of happiness is fundamentally influenced by positive relationships with people. They give support in difficult times, and above all, the feeling of selfless joy when we can give someone a gift.
The International Commission for Human Rights and its volunteer team SMM IHRC Poland, on the occasion of the Muslim holiday of Kurban Bajram on June 24, 2023 in Warsaw at 13 Monte Casio Street, with the help of IHRC volunteers, donated products for 40 families in the amount of PLN 150 for each family.
Most of the food items were donated. flour, sugar, pasta, rice, oil, tea, sweets.
The International Human Rights Commission from Switzerland included a special volunteering program together with the Branch Board of NSZZ FSG at NwOSG and the Association of Cooperation Polska Wschód the Świętokrzyski branch in Kielce, covered families from Chechnya and other CIS countries residing as asylum in Poland in a special volunteering program.
---

The organizer of this event was:
Ms. Leli Kagermanova
Regional Coordinator
of the International Human Rights Commission SMM IHRC in Poland.