IHRC in Poland - Special Event
What we do > Actions > Events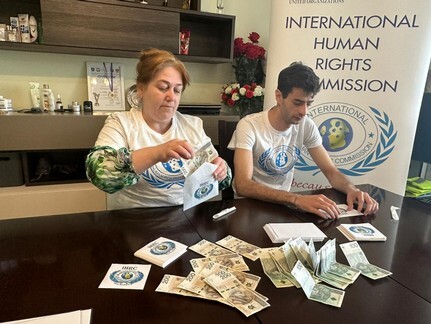 SMM IHRC Marks Special Event in Honor of Volunteers in Poland
Europe: The Special Monitoring Mission International Human Rights Commission, SMM IHRC, under the amiable leadership of IHRC Secretary-General Prof. h.c. Rafał Marcin Wasik held a special event on May 15th, 2023 in honor of Volunteers who have always helped and are still ready to help those in need in Poland and delivered financial support for PLN 200 to 15 refugee families.
A statement by Leli Kagermanova, the Regional Volunteers Coordinator (RVC) in Poland, noted that for several years, the Volunteers have been helping refugees from Chechnya who are in a difficult situation. She said since the beginning of the war in Ukraine, they also took them under their constant care. "Our Volunteers helped refugees from Ukraine in many ways, organizing their transport from the border to Warsaw."
She added that all Refugees under the care of RVC Leli Kagermanova, both from Chechnya and Ukraine, were provided with the same help. They received financial support, food parcels, and what was extremely important for them, the help of interpreters in hospitals, offices, etc.
Meanwhile, every year advocacy programs with particular emphasis on children and their mothers are organized including meetings with Santa Claus in schools, not limited to the distribution of much-anticipated gifts, but also with tasty refreshments, delicious homemade cakes, and other sweets.
We can talk endlessly about the activities of SMM IHRC Poland Volunteers with great reference to the
Regional Volunteers Coordinator Ms.
Leli Kagermanova and her associates. This group of Volunteers works in refugee communities.
Earlier in her remark, Leli Kagermanova thanked the Secretary-General Prof Rafal Marcin Wasik alongside the volunteers from Warsaw for their efforts and heart in activities for the benefit of those in need. In addition, each Volunteer received a prize of PLN 100 as a thank-you package.
At the end of the special event, the Volunteers, together with the supported families of Warsaw residents, appreciated Secretary-General Prof. h.c Rafał Marcin Wasik for the opportunity to serve humanity and help those in need.gional
The main organizers of the charity event were:
RVC SMM IHRC Poland, Leli Kagermanova; sponsored by Amina Khasilbieva, with the help of Ibragim Kagermanova, Natasha Deshieva, and Khava Kagermanova.
---

Reported:
Leli Kagermanova
IHRC SMM RVC, Poland.