IHRC, FRSC, Tackles Child Labour on Nigeria Highways, Seeks Further Collaboration
What we do > SMM IHRC > Actions > Africa > Nigeria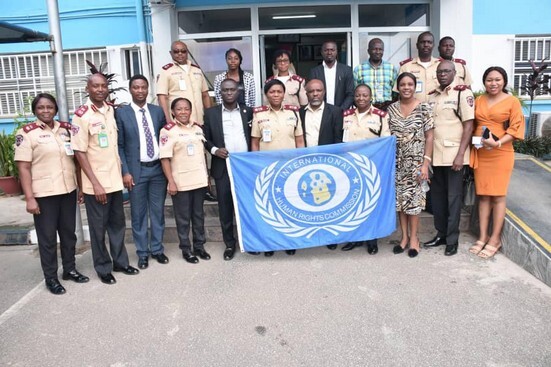 IHRC, FRSC, Tackles Child Labour on Nigeria Highways, Seeks Further Collaboration
Abuja: The Special Monitoring Mission of the International Human Rights Commission (SMM IHRC), and the Nigeria Federal Road Safety Corps (FRSC) hold a talk on the ripple effects of child labour occurring on Nigeria highways, its violations ranging from exploitation, abuse, and violence, as well as sharing collaboration ideals in addressing the menace.
This was revealed during a courtesy visit of
the International Human Rights Commission Special Monitoring Mission Officials to the FRSC Corps Marshal at the National Headquarters in Abuja on Wednesday.
The SMM Officials led by the National Coordinator, Comrade Elijah Vitus Echendu, stated that in line with the theme of this year's World Day Against Child Labour on 'Social Justice for All- End Child Labour' and objectives of IHRC on the protection of human rights and upholding the dignity of human persons across the world, IHRC is seeking partnership with the FRSC, centered on advocacy, support, training, mitigating strategies, rescue, participation in traffic control and enforcement for greater social justice to stem the fight against child labour.
He said that according to ILO, the UN has warned that the absence of mitigating strategies could pose an exponential increase in the number of children engaged in child labour, which would certainly have massive implications for the future.
He added that child labour such as hawkings and other forms of modern slavery on Nigeria highways are identified gaps that call for concerted efforts from all stakeholders in the development of monitoring infrastructure to determine and measure the magnitude, transportation, dimensions, and characteristics of child labor at the national and state roads of Nigeria.
"We are very optimistic about the credibility of the technical support and mitigation strategies that will emerge from our partnerships and how they can enhance the conduct of road marshals in responding to issues of child labour while discharging their duties", he maintained.
While responding, the Corps Marshal, Dauda Ali Biu, FCNA, CPA, ably represented by ACM Pauline P. Olaye commended the Special Monitoring Mission of the International Human Rights Commission, noting that FRSC has been working on advocacy programs for schools, churches, mosques, and market places to improve awareness of people against some of these menaces including child labour.
She also urged IHRC to focus sensitization programs in such places particularly schools and churches where children can be taught at their early stage in life.
Meanwhile, the duo groups reinstated the establishment of the Human Rights Desk at the FRSC, Special Marshal Unit at IHRC, alongside the Training of FRSC personnel on Human Rights Perspectives by IHRC.
Other SMM Officials at the meeting were Fidelis Onakpoma, Head of Media and Strategic Communications IHRC Nigeria; Comrade Adèoye David, Zonal Volunteers Coordinator Abuja; Comrade Odion Ikyo, Assistant Zonal Volunteers Coordinator in Abuja; Comrade Nnamdi Christian from the ICT Department; Comrade Devine Erochukwu, Social Welfare and Oseghale Marian O.
---
Reported
Fidelis Onakpoma
Head, Media and Strategic Communications, IHRC Nigeria.
July 11th, 2023.