Air Ambulance
What we do > Actions > Medical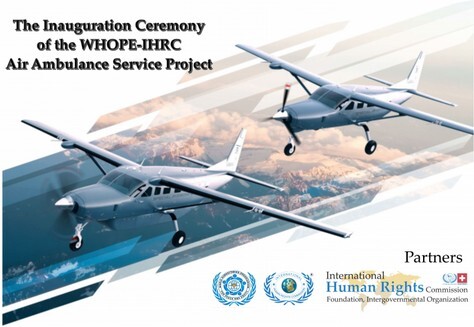 The Inauguration Ceremony of the WHOPE-IHRC
Air Ambulance Service Project
The World Humanitarian Organisation for Peace and Equity WHOPE in Partnership with the Special Monitoring Mission International Human Rights Commission is inviting you to the Board Inauguration Ceremony of the WHOPE-IHRC Air Ambulance Service Project for Disaster Preparedness on Sunday June 4, 2023 09:00 AM Pacific Time (US and Canada), 04:00 PM GMT (5:00pm West African Time/London).
Register in advance for this meeting:
After registering, you will receive a confirmation email containing information about joining the meeting.
LIST OF REAPPOINTED BOARD MEMBERS
1. Dr YEWANDE OKUNOREN-OYEKENU, CHAIRPERSON OF THE BOARD.
3. AMB. LADY PATIENCE NKIRUKA NWAOBASI NIGERIA
4. AMB. DAME OLUWATOYIN JOSEPH, NIGERIA
5. AMB. MRS FAOSAT TITILAYO SHITTA, NIGERIA
6. AMB. NAHLA SULEMAN, SUDAN
7. DR CHIDI MADUKA, NIGERIA
9. GLORIA MOURA ALVES, SOUTH AMERICA/BRAZIL.
10. CARLOS NAVARRO, UNITED KINGDOM.
LIST OF NEWLY APPOINTED BOARD MEMBERS
2. CHIEF MRS OROJA, NIGERIA.
3. DR CONTEH, INTERNATIONAL HUMAN RIGHTS COMMISSION, COMMISSIONER FOR ECOWAS REGION.
4. MRS YETUNDE PAUL, UNITED KINGDOM AND NIGERIA.
6. CRISTINA DI SILVIO/ EUROPE.
8. BUKOLA DUROJAIYE, USA.
9. DR ACHI BEKOMSON, NIGERIA.
10. MRS ELIZABETH NWANKWO, NIGERIA.
11. PRABHU SHARNAM, INTERNATIONAL HUMAN RIGHTS COMMISSION, NATIONAL VOLUNTEERS COORDINATOR, UNITED KINGDOM.
12. DR MICHEAL OTORKPA, UNITED KINGDOM.
13. OLAMIDE ADEYEMO, UNITED KINGDOM.
14. AMB DAVID ATOBAJE, NIGERIA.
15. FARIA FARHANA, UNITED KINGDOM.
16. PRINCE OLUWAFEMI AYOOLA, UK AND NORTH AMERICA.
17. ADAOBI LAURETTA IWUAMADI, UNITED KINGDOM.
18. LOVE UDUMA, AFRICA AND ITS DIASPORA PROJECTS COORDINATOR.
19. EMMANUEL OBOH, CLIMATE CHANGE PROJECTS COORDINATOR.
---

Reported:
Dr Yevande Okunoren-Oyekenu
NVC SMM IHRC in UK