IHRC: Visit to the Oncology Hospital
What we do > Actions > Medical > Syria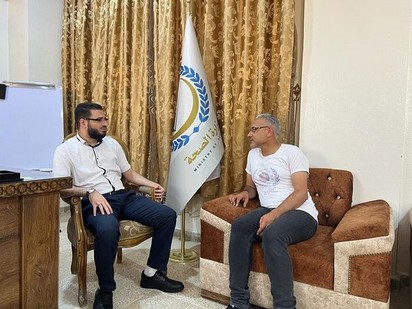 IHRC's Delegation Visits Pediatric, Gynecological Cancer Patients, Syria.
Mr. Ahmed Mawas, a delegate from the International Human Rights Commission (IHRC) in Northern Syria, was assigned a field visit to Pediatric and Gynecological Cancer Patients in Idlib Hospitals
During the visit, patients and doctors expressed their challenges due to a lack of medicines, appropriate treatment, and the lack of medical capabilities, and laboratory equipment.
The
Delegation of the Syrian Center for Human Rights also met with the Director of the University Hospital where Mr. Ahmed Mawas conveyed the solidarity of the International Human Rights Commission led by Prof. h.c. Rafal Marcin Wasik with patients and doctors while submitting their complaints to international organizations for urgent intervention.
"We at IHRC Syria, are appealing to all international organizations, the United Nations, Turkey, and health organizations to provide medicines and special equipment for early examination of cancer diseases quickly and open the crossings with Turkey to treat these patients", Ahmed Mawas said.
Note that the number of patients in Northern Syria exceeds 3,000 patients, most of whom are children, and there are a large number of new cases that occur daily. The IHRC team thanked the government in Northwest Syria for its keen interest and cooperation with the team.

Reported
Mr. Mohamed Hassan
IHRC SMM
Fidelis Onakpoma,
IHRC Editor-in-Chief Worldwide.
July 29th, 2023.