IHRC & CONACCE Chaplains
Foreign Affairs > Africa > Chad > Meeting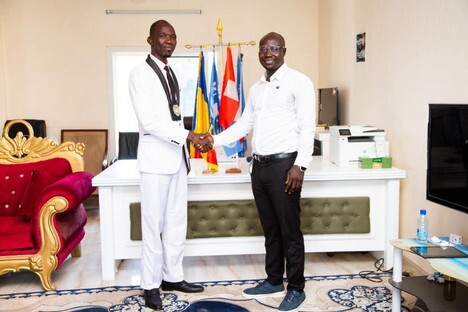 IHRC, CONACCE Chaplains, Meets to Share Collaboration in Chad
July 14, 2023, was marked by a courtesy visit from the team of the National Coordinator of CONACCE Chaplains led by the Resident Coordinator of CONACCE Chaplains, Lieutenant-Colonel DJIKOLDINGAM MBAÏTOUDJIM alongside some members of his team to the International Human Rights Commission Office in Chad.
The meeting was followed up by the earlier visit of the National Coordinator of Volunteers of the IHRC Mr. Kemba
Ousmane Medard to the office of CONACCE Chaplains in Chad.
Upon arrival, the CONACCE team was welcomed on escort by the National Coordinator of the IHRC Mr. Kemba, and his staff. Once the words of welcome were pronounced by the Coordinator of the IHRC and the volunteers introduced, followed that of CONACCE by Colonel Bertin. After the presentations, the communication officer of the IHRC National Coordination Office, who is also the Chaplain of CONACCE, Mr. Takendjilembaye Davy, sets the scene for the visit by stressing that there will be no protocol.
Given the floor, Colonel Bertin presented in detail the CONACCE Chaplains by mentioning its mission, vision, as well as the objectives and areas of intervention, while giving explanations on the different types of chaplaincy.
Thereafter, the National Coordinator of IHRC Volunteers did the same for his organization, and it became clearer that the two organizations pursue the same vision.
Two points to remember from this meeting: The two organizations' desired to have a protocol of agreement and the IHRC wanted the chaplains of the provinces to serve as focal points. It was a fruitful exchange.
The meeting ended with the proposal that the two Coordinators will still have time for the exchange of work accompanied by their collaborators.
---
Reported:
Mr. Takendjilembaye Davy
IHRC Communications Officer, Chad.

Editorial
Fidelis Onakpoma
IHRC Editor-in-Chief Worldwide