ZO NSZZ FSG
Foreign Affairs > Cooperation > EU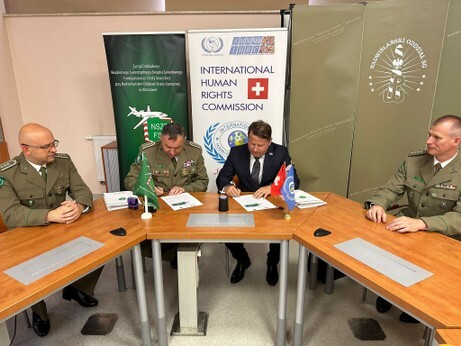 ZO NSZZ FSG at NwOSG signed a cooperation agreement with IHRC
On July 5, 2023, at the headquarters of the Nadwiślański Border Guard Unit, an agreement on cooperation was signed between the NSZZ FSG Branch Board at the NwOSG and the International Human Rights Commission - IHRC.
The agreement was signed on behalf of the parties by: Secretary General prof. h.c Rafał Marcin WASIK and Chairman ZO NSZZ FSG Robert LIS.
During the meeting, the Secretary General, prof. h.c. Rafał Marcin WASIK, on behalf of the International Commission for Human Rights, awarded the intergovernmental medal "Civis Mundi Sum" for outstanding merits in the defense of human rights to the Chairman of the ZO NSZZ FSG at the NwOSG, Robert Lis.
In addition, the Board ZO NSZZ FSG received the IHRC Flag from the Secretary.
Future joint activities and initiatives that will be implemented under the concluded agreement were discussed.
The meeting was attended by the Vice-Chairmen of the Branch Board ZO NSZZ FSG : Marek Zasim and Paweł Matuszewski and the Chairman of the ZT NSZZ FSG at PSG Warszawa Okęcie Krystian Wojciechowski