Fighting Racism
Press center > Secretary General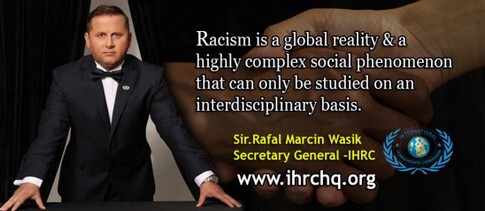 Fighting Racism & all forms of Discriminations is one of IHRC Priorities – Sir Rafal Marcin Wasik
Racism has existed throughout human history. It may be defined as the hatred of one person by another or the belief that another person is less than human, because of skin color, language, customs, place of birth or any factor that supposedly reveals the basic nature of that person.
Racism is the belief that a particular race is superior or inferior to another, that a person's social and moral traits are predetermined by his or her inborn biological characteristics. It has influenced wars, slavery, the
formation of nations, and legal codes. Racial separatism is the belief, most of the
time based on racism, that different races should remain segregated and apart from one another.
Racism is a global reality. Racism is a highly complex social phenomenon that can only be studied on an interdisciplinary basis. So we should start by understanding racism as a worldwide phenomenon that requires a worldwide response. All societies, and all of us in those societies, must address racism in the forms that it manifests itself in our lives and cultures.
We live in societies dominated by the media. As listeners, viewers or readers we are all affected by the media. And the media's ability to influence us is growing all the time, the range of virtual media worlds extends and the power of the Internet takes hold. From the onset of the information age, the media have defined attitudes towards ethnic, national, religious or social groups other than those identified as the particular medium's target groups. Indeed, the media have often sought to become the spokespersons of a particular group, and to define its attitude toward others.
Fighting racism and all forms of discriminations throughout the world is one of IHRC priorities. Within the European Union, the fight against racism and discrimination is one of the top priorities for the European Union's Fundamental Rights Agency (FRA).

Issued: