3rd Edition of the Child Summit
Press note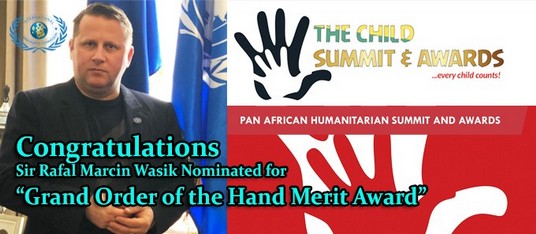 PRESS NOTE FROM THE OFFICE OF THE SECRETARY GENERAL INTERNATIONAL HUMAN RIGHTS COMMISSION:
Sir Rafal Marcin Wasik Secretary General IHRC has been invited in 3rd Edition of the Child Summit as a Special Guest of Honor & will be presented with the Grand Order of the Hand Merit Award which is the highest civilian awards presented in recognition of exceptional services for the protection of the Child rights and Welfare by the Advisory Board Council of the Pan African Leadership and Entrepreneurship Development Centre (PALEDEC) .
He will also be delivering the Keynote Speech alongside other Guest Speakers: Her Excellency Rebecca Akufo-Addo – First Lady of the Republic of Ghana and Brig. Gen. Amb. Wallace Williams - Consular General of the Island of Trinidad and Tobago.
This year's edition, scheduled to hold in Accra Ghana on the 7th of September, 2019 under the theme "Strengthening Child Protection Systems in Sub-Saharan Africa" will draw Participation of 250 highly recognized leaders and stakeholders in various sectors of industry, government, business and humanity from across Africa and livestreamed for a global audience. 21 awardees under the ages of 17 years old from 11 countries will also be honored.
Sir.Rafal Marcin Wasik, is also an originator of conflict resolution in Ukraine. Central Office of the International Human Rights Commission (IHRC) has been officially registered in Ukraine in 2014 in order to create an international network of Human Rights Protection. Since the creation central office of IHRC conducted monitoring of early presidential elections in Ukraine on 25th May 2014, serving as an international observer. Central office IHRC has prepared proposals which has found practical application in the Peace Plan of the President of the Ukraine & Minsk Arrangements of 5th September 2014. In matters of supporting the National strategies against IDP's & development & implementation of legislations on IDP's in the fields of social & economic policy.
TEAM IHRC Congratulates Sir Rafal Marcin Wasik for the Award & for his untiring & dedicated efforts towards Humanity & Human Rights.
ISSEUD BY: H,E MUHAMMMAD MOHSIN DURRANI