Umme Rubab
Press note > Asia Region > Mohsin Durrani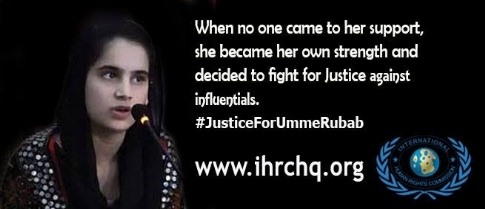 When no one came to her support, she became her own strength and decided to fight influentials from her area. The other day, Rubab was pictured and recorded going to court barefoot, showcasing the lengths she was ready to go to.
The video went viral on social media and people from all over the country commended her for her courage, resilience, and guts.Seeking justice for her family went to cour
t, fighting her own family's case, barefoot, in a bid to launch her protest and show people that she would go to any limit to get a deserving decision.
Umme Rubab has been fighting her family's case for 2 years, trying to suppress the mighty Chandio tribe of Sindh who vanquished three members of her family, her grandfather, her father, and her uncle.