Mohammed Elias SERAZI
Press note > Secretary General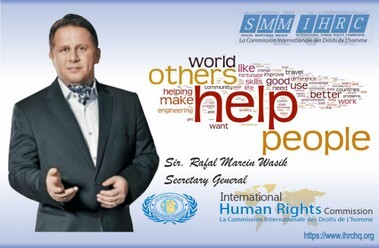 12 March/ 2020 Secretary General of IHRC, Czech Republic,EU Prof.h.c. Sir Rafal Marcin Wasik Posted a message to all Government & State Officials to Protect Prisoners/ Custodians in Prison from spreading the Coronavirus . After 4/5 days in Bangladesh Her Excellency Honourable PRIME MINISTER RELEASED former PRIME Minister Begum KHELADA ZIA from Jail because of COVID-19!
I congratulate her excellency honourable Prime Minister, SHEIKH HASINA for her Wise decision!
It's Leadership, Humanity! A real Leader forgot Enmity/competition time of Natural Disaster/Broke down! & she is SHEIKH HASINA!
INTERNATIONAL HUMAN RIGHTS COMMISSION has requested all the Governments to take all necessary measures to protect people in prisons, jails, and immigration detention centers from infection by the corona virus. They should consider supervised release and other non-custodial alternatives for detained individuals who are at high risk of serious effects from COVID-19.
People in prisons, jails, and immigration detention centers are not free to leave. They are in institutions that have often been found to provide inadequate health care even under normal circumstances. Prison, jail, and detention center populations often also include people with serious chronic health conditions, making them more vulnerable to COVID-19.
People behind bars are often forgotten by society during a crisis. Protecting people in custody also protects staff and visitors from those facilities who return to their communities each day.

Mohammed Elias SERAZI
Peace Ambassador
Bangladesh Region.
IHRC, Czech Republic,EU