COVID-19
Press center > Secretary General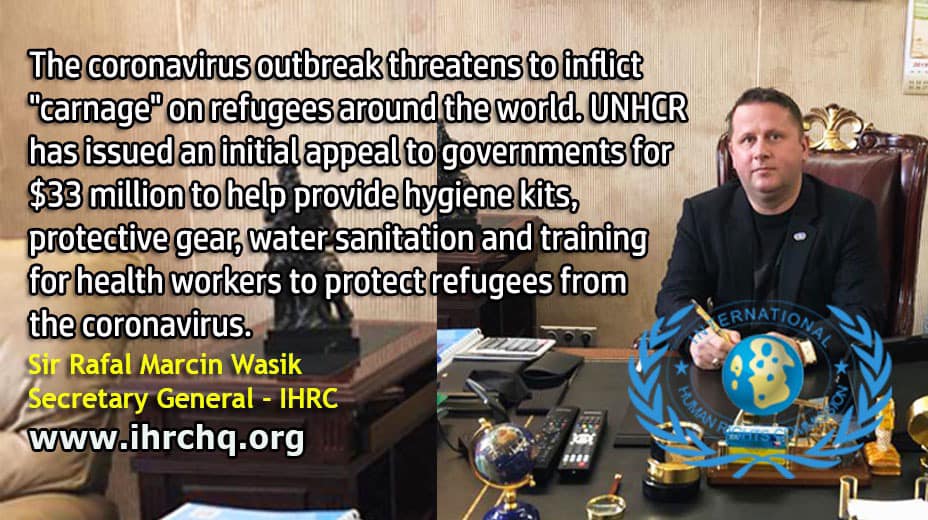 PRESS NOTE FROM THE OFFICE OF THE SECRETARY GENERAL INTERNATIONAL HUMAN RIGHTS COMMISSION: COVID 19 & REFUGEES
International Human Rights Commission (IHRC) is working to strengthen & support all Nations capacity to engage in sustainable development through educational access, relief programs, ecological & bioethical reflections & actions, while taking in to consideration the traditional, social & cultural values of each Nation. Promoting Human Rights Peace, Gender Equality, Health, Economic development, awareness regarding the rights of women, children & youth in developing nations & where ever needed.
The coronavirus outbreak threatens to inflict "carnage" on refugees around the world who often live in cramped conditions, lack access to clean water and are in countries with failing or stretched medical systems, humanitarian aid groups say. From Syria to Bangladesh to Uganda, the risk posed to people who have fled war and persecution is potentially dire, and only urgent international action can avert a catastrophe, aid organizations told NBC News.
As of Tuesday, only 10 cases had been reported among refugees and displaced persons, and all of those were patients in Germany, according to the U.N. refugee agency. But in the absence of extensive testing at refugee camps in the Middle East, Africa or Asia, it's unclear whether the fast-moving virus has already reached them, medical experts and humanitarian workers said.
IHRC & its Volunteers across 22 countries are playing their Vital role in helping Governments & other organizations in their respective countries for spreading awareness campaigns & implementation of safety & precautionary steps against the spread of COVID 19.
IHRC & its team are determined to deliver the best we can. We believe that the need of time is UNITY to fight against such viruses & two main tactics recommended to halt the spread of the virus — hand-washing and social distancing.
Rafal Marcin Wasik
Secretary General
International Human Rights Commission