H.E.THATREE CHAUVACHATA
Press center > Asia Region > Meetings > Pakistan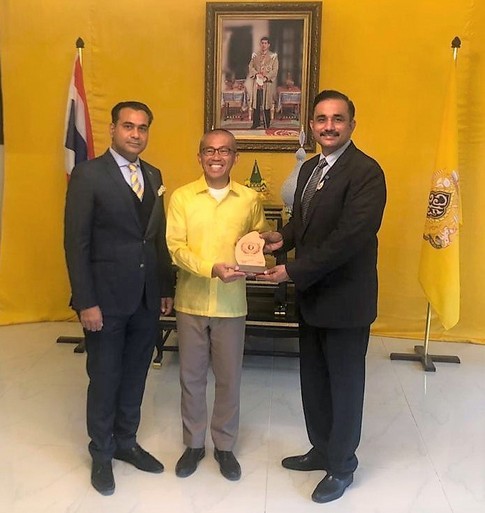 PRESS NOTE FROM THE OFFICE OF THE SECRETARY GENERAL ITERNATIONAL HUMAN RIGHTS COMMISSION:
ASIA REGION
Thailand and Pakistan established diplomatic relationship on 10 October 1951. Thailand and Pakistan enjoy close and cordial ties. Both Pakistan and Thailand have age-old histories of ancient civilization and have been connected by a common cultural linkage through Buddhism and the Gandhara civilization that flourished in the city of Taxila.
The relations between Pakistan and Thailand have consistently grown over the years, based on shared principles and mutual interests. Pakistan and Thailand are both hubs and enjoy strategic location in their respective regions.
Today the undersigned H.E Mohsin Durrani Ambassador at Large & Regional Head Asia Region/Advsor UN Affairs visited Consul General H.E.THATREE CHAUVACHATA at the Thai Consulate in Karachi. We must thank Honourable Consul General H.E Thatree Chauvachata for his precious time in his office for an Introductory meeting for
International Human Rights Commission
& its operations in 17 Countries across the Globe.
It was undoubtedly a productive meeting as we discussed not only the regional issues but also the Kashmir issue on Humanitarian & on the basis of Human Rights Violations. We also invited Honourable Consul General in our upcoming IHRC First International Humanitarian Awards in Dubai during first week of October 2019. Consul General also appreciate the Humanitarian & Human Rights work by IHRC across the Globe.
Honorable Deputy Consul General Thai Consulate & H.E Dr.Shahzad Amin Abassador at Large Pakistan were also Present in the meeting & presented a IHRC Logo & appreciation shied to Honourable Consul General.
ISSUED BY:
Mohsin Durrani
International Human Rights Commission