Condolences
Press note > Secretary General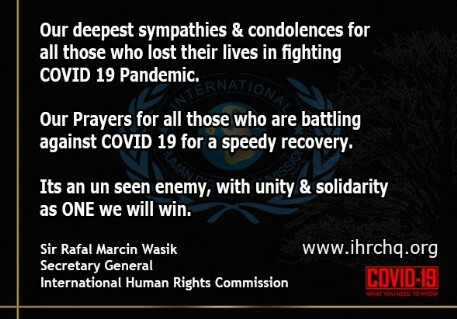 PRESS NOTE FRPM THE OFFICE OF THE SECRETARY GENERAL INTERNATIONAL HUMAN RIGHTS COMMISSON: CONDOLENCES & SYMPATHIES
Today the world is fighting with the common enemy COVID-19 as pandemic & together we will win.
The world is in the grips of a pandemic. It is with the greatest respect that I write to the many families that have lost their loved ones.
Team
International Human Rights Commission
would like to offer their deepest condolences & sympathies for the loss of so many lives & Prayers for all those who are battling against COVID 19 for their speedy recovery.
Today the whole world is fighting against this unseen enemy with great courage & solidarity.
Doctors & Paramedics professionals are teaching us all a lesson of sacrifice, solidarity and generosity.We need to keep spirits high in the face of adversity. As One Nation united, resilient & determined.
IHRC & our Volunteers across the globe stands by with all those who are fighting against COVID 19 in full solidarity, and we will spare no effort to help those who are need.
Rafal Marcin WASIK
International Human Rights Commission