International Human Rights Commission
Offices > Branchs offices > Lebanon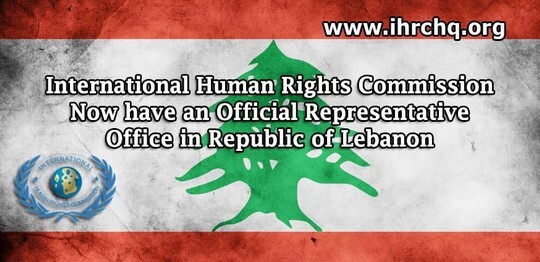 International Human Rights Commission (IHRC) is working to strengthen & support all Nations capacity to engage in sustainable development through educational access, relief programs, ecological & bioethical reflections & actions, while taking in to cons
ideration the traditional, social & cultural values of each Nation. Promoting Human Rights Peace, Gender Equality, Health, Economic development, awareness regarding the rights of women, children & youth in developing nations & where ever needed.
We have received extra ordinary appreciation towards our Passion to serve Humanity with improvements in people's life & Peace around the world. IHRC is expanding its operations to extend its reach for the People in need across the Globe. Currently we have more than 20 countries representing IHRC with 21 Ambassadors at Large representing IHRC in their respective countries. We have 12 Ambassadors & 14 Goodwill Ambassadors with more than 2000 Volunteers across the Globe. Similarly, we have 21 IHRC Special members, 05 IHRC Commissioners & 01 Young Ambassador.
We are delighted to announce that we have received an official authorization from the Government Republic of Lebanon for the opening of IHRC Official Representative Office in Republic of Lebanon. IHRC & its team would like to Thanks the Honorable President of Republic of Lebanon H.E Michel Aoun & the Ministry of Foreign Affairs for allowing IHRC & team to serve their expertise & experience for the People of Lebanon & to strengthen our long term relationship.
We must also thank our Ambassador at Large in Lebanon Col. Romanos Aziz Raad their team for their untiring efforts for the opening of IHRC Office in Lebanon at Center Geoger Wakim Mansourieh Republic of Lebanon.
International Human Rights Commission
---
* Officially accredited office in the Republic of Lebanon ( Number 6573 ) *