Monday that killed Italian ambassador Luca Attanasio
Press center > Africa Region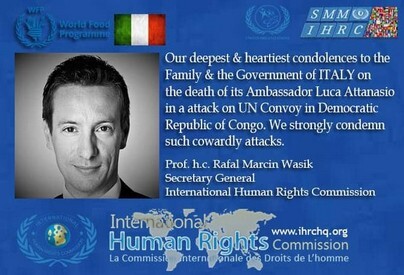 Italy's ambassador to the Democratic Republic of Congo has been killed in an attack on a United Nations convoy near the eastern Congolese city of Goma
.
---
The U.N. World Food Program says at least two other people were killed and several more injured in the attack Monday that killed Italian ambassador Luca Attanasio.
A U.N. spokesman told VOA the other two fatalities were an Italian national and a Congolese WFP driver. The spokesman says the attack targeted two WFP vehicles traveling about 25 kilometers northeast of Goma.
A World Food Programme statement said the delegation was traveling from Goma to visit a WFP school feeding program in Rutshuru when the incident took place. It noted that the attack "occurred on a road that had previously been cleared for travel without security escorts."
Reuters, citing the Virunga National Park, reports the convoy was attacked near the town of Kanyamahoro as part of a kidnap attempt.
The United Nations secretary-general calls on the Government of the Democratic Republic of the Congo to investigate swiftly this heinous targeting of a United Nations joint field mission and to bring the perpetrators to justice," Stephane Dujarric said in a statement Monday.
He told reporters several rebel groups operate in the area, and it is unclear who the perpetrators were.
International Human Rights Commission strongly condemned such cowardly attacks on UN Convoy. Our deepest & heartiest condolences to the Family & the Government of ITALY on the death of its Ambassador Luca Attanasioin a attack on UN Convoy in Democratic Republic of Congo.
Secretary-General IHRC Sir Rafał Marcin Wasik