Sen. Blunt
Press note > Middle East > Lebanon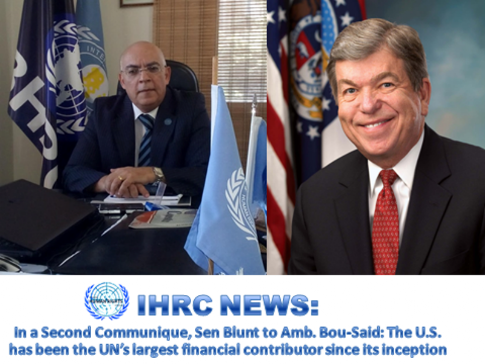 Sen. Blunt to Amb. Bou-Said: The U.S. has been the UN's largest financial contributor since its inception
In a Second Communique, Sen. Blunt to Amb. Bou-Said: The U.S. has been the UN's largest financial contributor since its inception
UN Senator Roy Blunt wrote Amb. DR. Haissam Bou-Said (ME Commissioner and Advisor to the UN Of Geneva Affairs thanking him for all his efforts and time to share thoughts on U.S. contributions to the United Nations (UN) and UN Peacekeeping.
Sen. Blunt emphasized on Amb. Bou-Said Knowledge on the UN foundedation in 1945 in an effort to maintain global peace and security by fostering friendly relations among member states. He added that the U.S. has been the UN's largest financial contributor since its inception, and plays an important role in ensuring that the organization reforms and improves its operations. When properly spent, foreign aid is key to our national security.
He also confirmed that these programs are funded through the Senate Appropriations Subcommittee on State, Foreign Operations, and Related Programs. As a member of this subcommittee, he appreciate Amb. Bou-Said insight, and will be sure to keep his thoughts in mind as the appropriations process moves forward.
On the other hands Amb. Dr. Bou-Said revealed the coordination with the UN Bodies in concern on Human Rights that consist to boost the aid of the States and obligations, in order to better improve the UN General work that depends on high fundings.