Caravan for Peaceful Elections in Cote d'Ivoire
What we do > COVID-19 Africa > Cote d'Ivore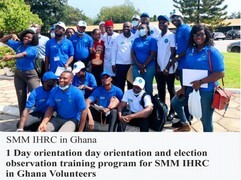 " Caravan for Peaceful Elections in Cote d'Ivoire "
On Tuesday 06 October 2020 the Regional Coordination of the International Human Rights Commission IHCR, operating over ECOWAS and G5 Sahel areas, took part in the official launching of the "Caravan for Peaceful Elections in Cote d'Ivoire", initiated by 2019 Super Ebony Serge KOLEA as technical Partner.
Topic: "Youth commit yourself for peace in Cote d'Ivoire".
This caravan will visit ten constituencies, three in Abidjan (Abobo, Anyama and Yopougon) and seven hinterland localities (Bonoua, Daloa, Daoukro, Divo, Duékoué and Gagnoa). It basically aims at raising awareness among the youth to cultivate peace and social cohesion so that the coming elections can take place in the best possible conditions. Several authorities attended to the launching including the President of the Union of Journalists of Côte d'Ivoire (UNJCI) Mr. Jean Claude COULIBALY, Mr. COULIBALY Ibrahim representing the Minister in Charge of Social Cohesion, Mrs. Marietou KONE - the representative of the Minister of Culture and Francophonie, the Head of Cabinet Mrs BAKAYOGO Mr. Ly Ramatou, Minister of Women, Family and Children Mr Jean Martial ADOU, representative of the Minister of Communication and Media and several other guests. On behalf of the IHRC the Ivorian Secretary for Regional Coordination Miss Danielle Sympathie AKA, briefly presented the structure and congratulated Mr Serge KOLEA for this beautiful initiative, which is in the same spirit as that of the IHRC. The promotion of PEACE during his speech, Mr. Serge KOLEA, winner of the Super Ebony Award 2019 edition, did not forget to thank all the people who agreed to accompany him in this action. He pledged to invest more in safeguarding peace in Côte d'Ivoire and to invite all participants to multiply their messages of peace. Singers performed to make this ceremony, which ended around 4pm, a pleasant one.
Reported
Mr. Vamara Fofana
RVC SMM IHRC
Regional Volunteers Coordinator
in Republic of Cote d'Ivoire