International day for infancy and children 2020.
Press note > Europe Region > Italy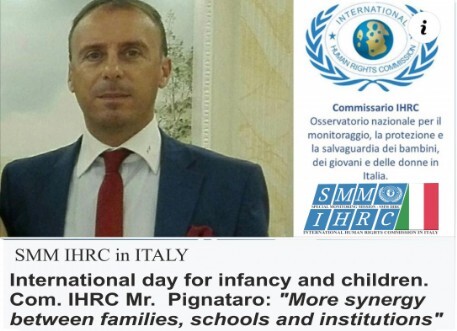 International day for infancy and children 2020.

Commissioner IHRC Mr.
Pignataro
talk:
"More synergy between families, schools and institutions to improve the well-being of adolescents and children"
. A few days after his appointment as Commissioner and Coordinator of the National Monitoring Observatory for Violence of Women, Youth and Children by the IHRC (Internationale Human Rights Commission), Dr. Salvatore Pignataro intervenes on the occasion of the International Day of the rights of children and adolescents 2020 established following the UN Convention on the Rights of the Child in 1989, which aims to promote solidarity and the improvement of their well-being. "This year's anniversary has a different flavor for me - explains Pignataro - at a national and regional level we are organizing the structure of the Observatory chaired by me with high-profile and competent professionals. The values of this day need to be remain in the hearts of all of us. Even today, we periodically witness conditions of abandonment, degradation, lack of assistance but also physical and psychological violence of children and adolescents. Greater synergy is needed between family, school, institutions and associations to monitor what it happens to intervene and guarantee the protection and well-being of children and adolescents in the best possible way. We are all called to this strong and important responsibility. And only in this way can we lay the foundations for a better future. "