UAE - Israel
Press center > Middle East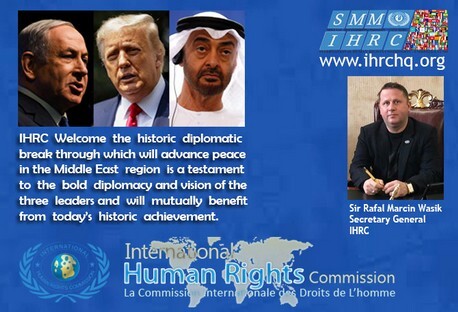 International Human Rights Commission
firmly believes in supporting,
promoting & strengthening PEACE, UNITY & HUMANITY across the Globe.
IHRC supports each & every country working on PEACE building in their respective regions. IHRC do not support or promote HATE, RELIGION OR INEQUALITIES as we believe Humanity is above all religions, caste & colour.
IHRC Welcome the historic diplomatic break through which will advance peace in the Middle East region is a testament
to the bold diplomacy and vision of the three leaders and will mutually benefit from today's historic achievement.
President Trump called the deal between Prime Minister Netanyahu and Abu Dhabi Crown Prince Mohammed bin Zayed Al Nahyan "a truly historic moment". It marks only the third Israel-Arab peace deal since Israel's declaration of independence in 1948, after Egypt and Jordan.
Issued on behalf of
Rafal Marcin Wasik
Ambassador Mohsin Durrani
Ambassador at Large & Advisor UN Affairs
International Human Rights Commission