IHRC: Visit to Rivers State
Press center > Africa Region > Nigeria > Rivers State
RVC, Fidelis Onakpoma on Working Visit to Rivers State.
Nigeria: The South-South Regional Volunteers Coordinator (RVC), Special Monitoring Mission of the
International Human Rights Commission-IHRC
(SMM IHRC), Fidelis Onakpoma pays a working visit to
Port Harcourt
Rivers State.
Fidelis who arrived in Port Harcourt on Tuesday 25th July 2023, held a consultative meeting with the proposed leaders of the Organization, stating that activities and impact of the Special Monitoring Mission in Rivers State were limited as Volunteers weren't properly educated about the scope of work of IHRC.
While conveying the greetings of the National Coordinator Comrade Elijah Vitus Echendu, he noted that the Special Monitoring Mission of the International Human Rights Commission is specifically designed to pilot the affairs of Volunteers worldwide.
He maintained that IHRC is a Transnational Intergovernmental Organization with Diplomatic Representation by the Directorate-General for Migration and Home Affairs of the European Commission, headquartered in Zurich Switzerland, and Nigeria Central Office at 9 Cotonou Crescent Wuse Zone 6 FCT Abuja.
"We are committed to promoting peace negotiation and humanitarian aid, working closely with state authorities across the globe to restore human rights and address humanitarian crises. More about us can be found on our official website at
www.ihrchq.org
", he asserted.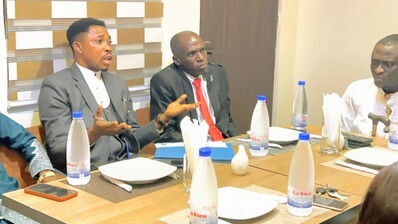 Just like Rivers State, other States in the Southern Region would be visited and properly guided on how to go about their activities".
"With this visit, I hope to be able to achieve formulation of SMM leadership, work plan, and harmonization of partnerships with respective government agencies to achieve the goal of our Organization in Rivers State", he added.
He emphasized that Apostle Prof. Ikezahu Osagie Success (PhD.) who's also the Founder and Director of Harmon Int'l Chaplain Corps Academy, has proven reliable and would not hesitate to approve his nomination for the position of the Acting State Coordinator pending when his antecedents will unsolicitedly earn him the Official Zonal Volunteers Coordinator (ZVC) for Rivers State.
He charged him to bring in his expertise and diligence with submission to IHRC organizational structures as he takes the lead of the Special Monitoring Mission of the International Human Rights Commission activities in Rivers State.
The meeting was held at Swat Lux Hotel Woji Estate in Port-Harcourt Rivers State, with Hon. Dr.
Wilson Codenine Ekwerekwu
, Apostle Prof. Ikezahu Osagie Success (PhD.), Pst. Victor Erhabor, Pst. Lucky Ehikhoya, Prophet, and Evang. (Mrs.) Cyril Edah Efe is in attendance.
---

Reported:
Fidelis Onakpoma
South-South RVC, SMM IHRC, Nigeria.