Human Rights Education
Press center > Asia Region > Mohsin Durrani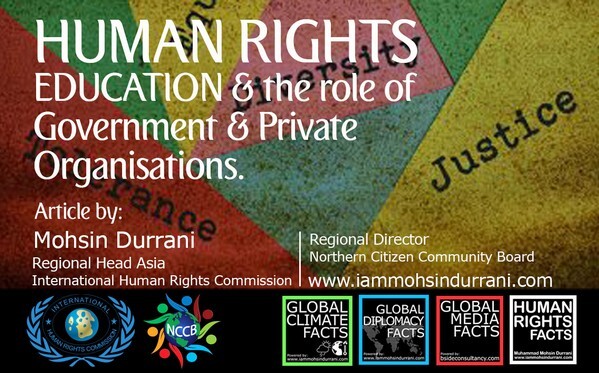 Human rights violations remain a pervasive issue across the globe, raising concerns about the dignity and welfare of individuals. The widespread occurrence of
human rights violations underscores the urgent need for action.
One approach to curbing human rights violations is through awareness campaigns and human rights education. By educating societies about the significance of human rights, their inherent value, and the detrimental consequences of their violation, a more informed and vigilant citizenry can emerge.
Human rights awareness and education play a pivotal role in fostering a just and equitable society. There is an argument that the primary responsibility for human rights education should lie with government, private institutions and organizations.
Government, institutions, and organizations bear a significant responsibility for promoting human rights education. Government and private organizations have the means to organize and sponsor seminars, workshops, and training programs focused on human rights education.
This perspective advocates for integrating human rights education into school and college curricula, supporting seminars and training programs, and granting diplomatic status to international human rights representatives. Granting diplomatic identification to these individuals would facilitate their movement across borders, allowing them to effectively advocate for human rights without hindrance.
It may be difficult to implement human rights in full swing due to varying cultural, political, and socio-economic contexts, focusing on prevention and awareness represents a tangible step forward. The universality of human rights does not mean they can be taken for granted; they must be continuously defended and upheld
---

Mohsin Durrani
Regional Head Asia
International Human Rights Commission